Well.. on a cold and wet Melbourne day, young Joon and I headed off to the inaugural Jells Park Farmers Market. You enter from the south side of the park, via Ferntree Gully Road. The council, in its wisdom, is doing road works at the entrance at the moment, so actually finding the entrance is a bit of a nightmare, but that will be a temporary set back. We got there at 8.15, and parking was plentiful and free.
There were about 20 stall set up, and all the stall holders I spoke to were friendly and cheerful.. and knew their stuff. They were all very accommodating to me, asking to take photos and pestering them with my tricky SOLE questions!
First stop was Nar Nar Goon Fruit: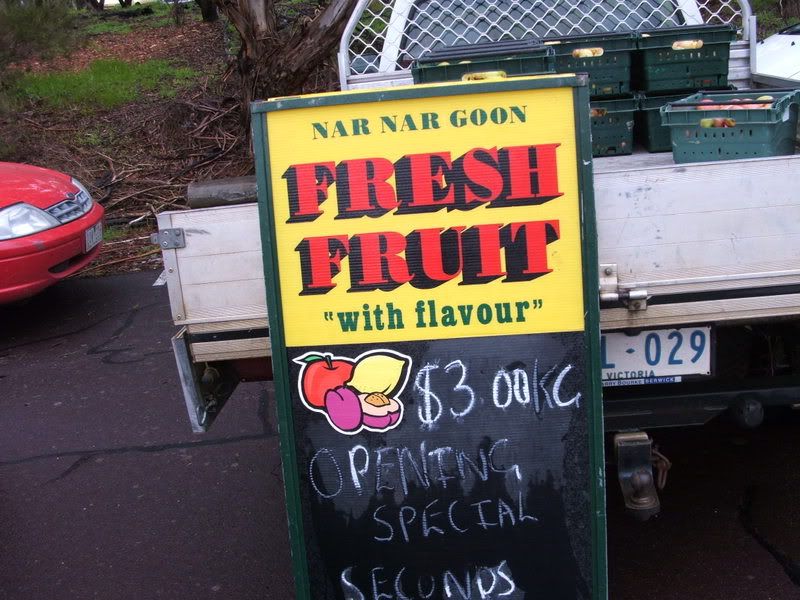 Nar Nar Goon is probably only 20 mins from Glen Waverley, and the stall had a good selection on in-season fruit, both first and second quality, and had samples for snackage.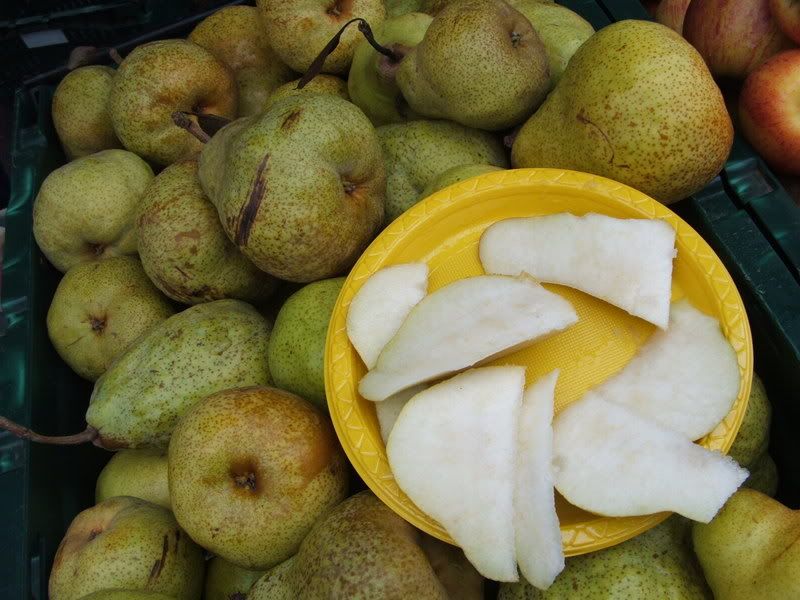 Next stop was Jeni's Eggs.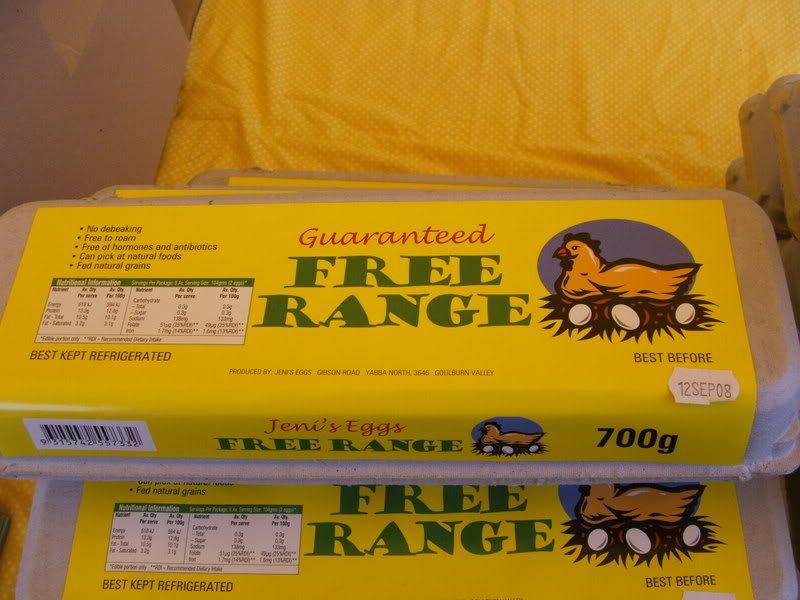 Owner Adrian guarantees that his chooks are not de-beaked, free to roam, hormone and antibiotic free, and are fed natural grains, as well as being free to scratch around and eat natural chook tucker.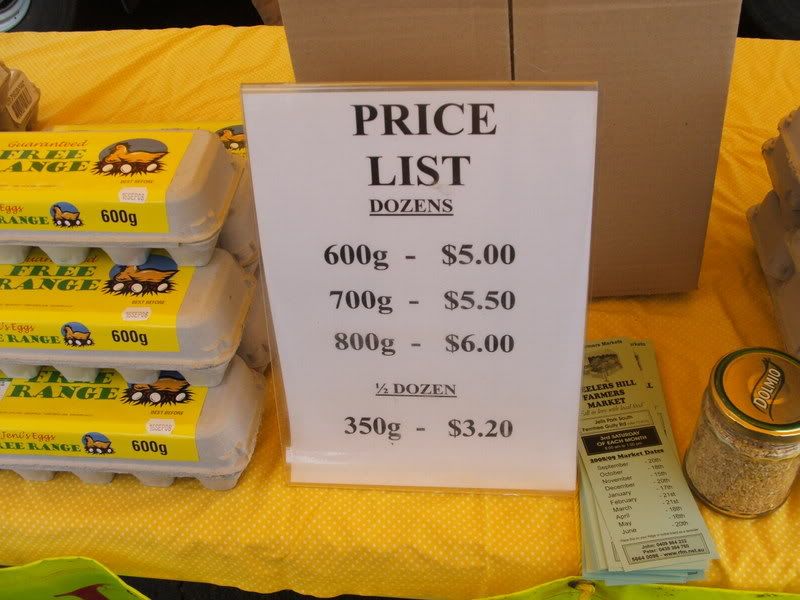 I think they're prices are excellent and definitely on par with a similar quality egg bought at the Spewpermarket! We'll be having Jeni's eggs for breakky, in fact Furry is working on that right now!
They're from Yabba North and can be contacted on 0448 328 418 or
jeniseggs@bigpond.com
Next stop was Cocoa Rhapsody for some NASAA certified and guaranteed Fair Trade chocolate.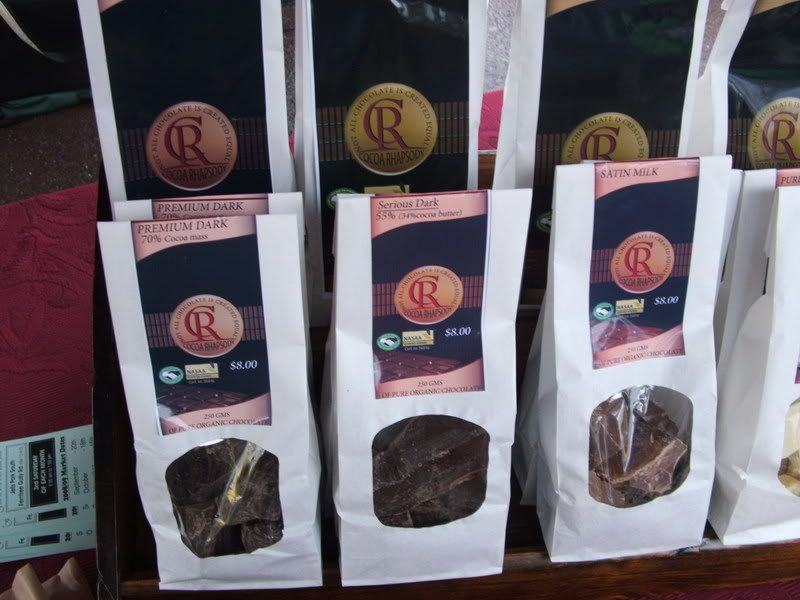 All their chocolates are hand crafted in Melbourne, and their farmers market special contains 70% Mount Buffalo hazelnuts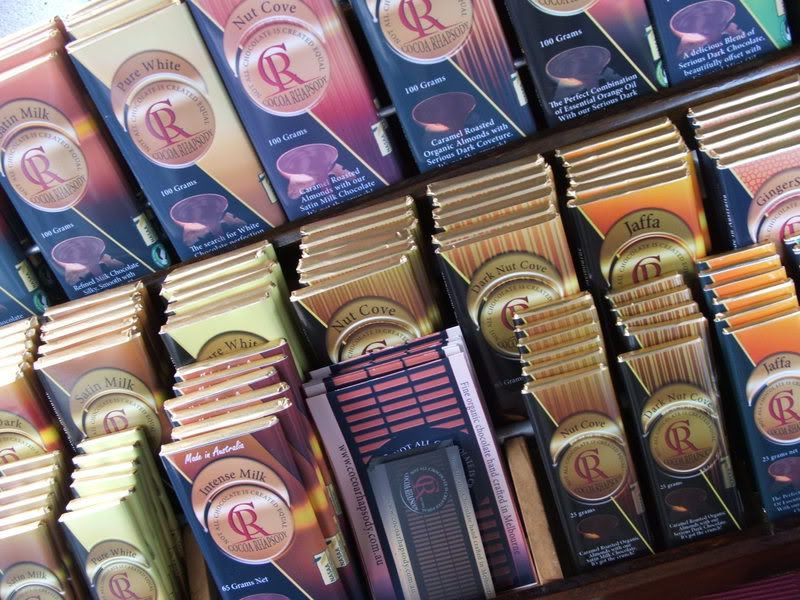 Their web site is wwwcocoarhapsody.com.au, or you can call Floyd Millar on 0407 290 176 or email at
floyd@cocoarhapsody.com.au
Next visit was the WE LOVE CAKE flavour station (0432 588 348, email at
flavour-station@hotmail.com
). Joon purchased their choc mud cake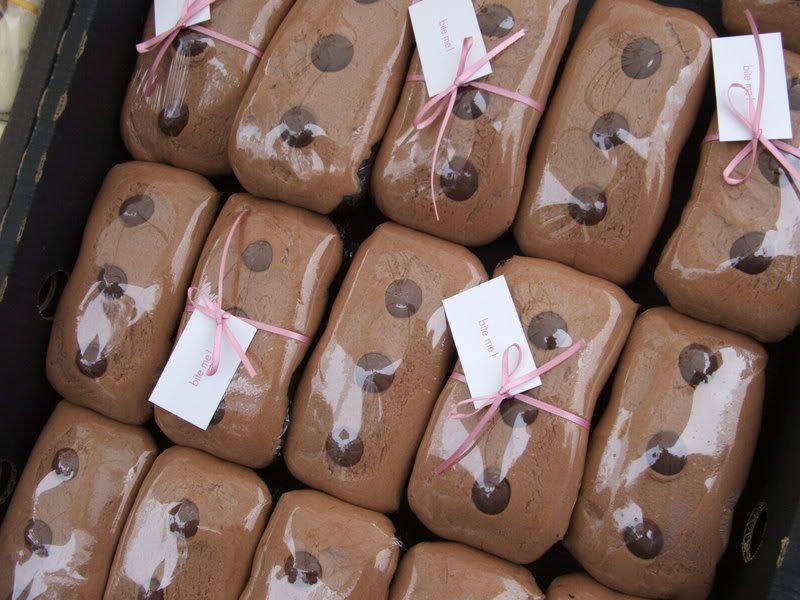 and a date loaf which apparently you can heat and serve just like a pudding.
Joon was having morning tea with a friend, and I will get back to you with a review when we catch up next week.
Next stop was: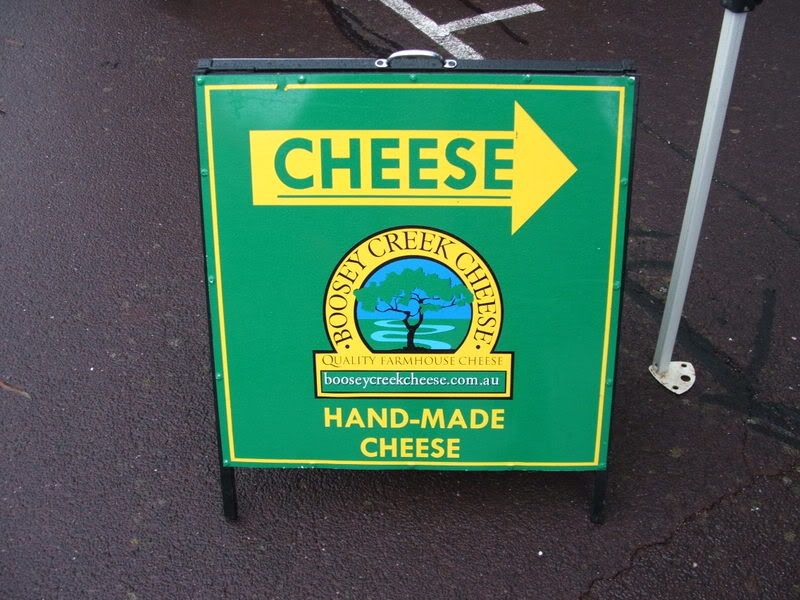 Boosey Creek Cheese is from Northern Vic, just out from Katamite, and is run by three generations of the Cameron family (sorry guys, the photo of both of you didn't turn out! Maybe next market when my hands aren't shaking with anticipation!)
Newborn calves are hand reared, and then left to the open paddock until they can be milked. All cheese are made on the family farm from the Fresian-Holstein herd
I samples the Oma's favourite, a gouda-style cheese with cumin.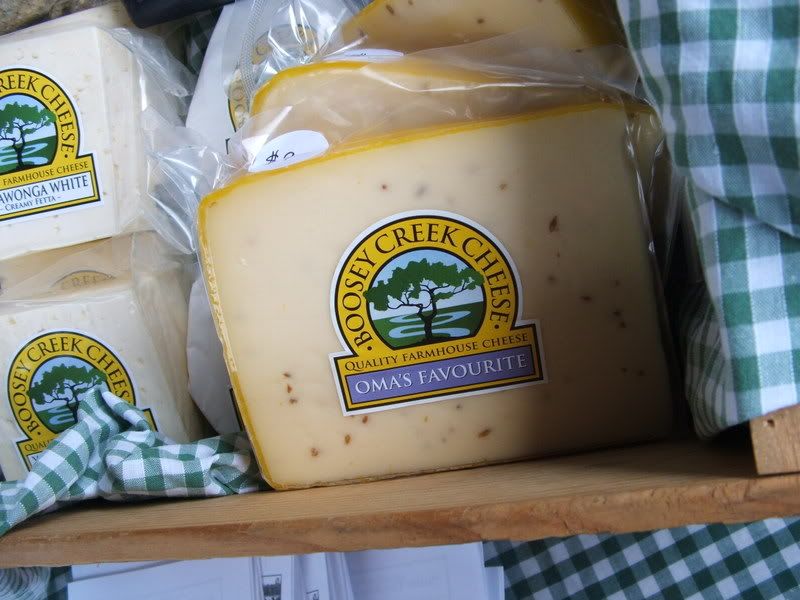 But what I walked away with was a bag of Burramine Blue, the cheese that won the DIAA Victorian Dairy Product Silver medal this year!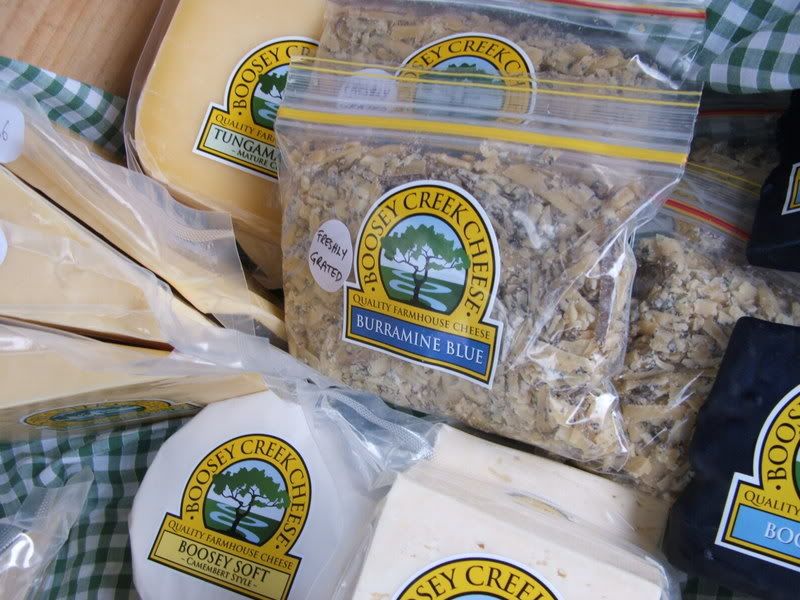 What happened with the last batch was, that on tasting, it was found to be luscious and flavourful, but too hard.. so the Cameron's grated it up and sell it in bags for $5.00. I am planning a pork roast with sauerkraut, apple, walnut and blue cheese stuffing!
Boosy Creek Cheese is at 734 Grinter Road, Boosey, 3730, email is
info@booseycreekcheese.com.au
or call 0409 307 320.
On to The Gourmet Provider (
mathesonclan@yahoo.com.au
)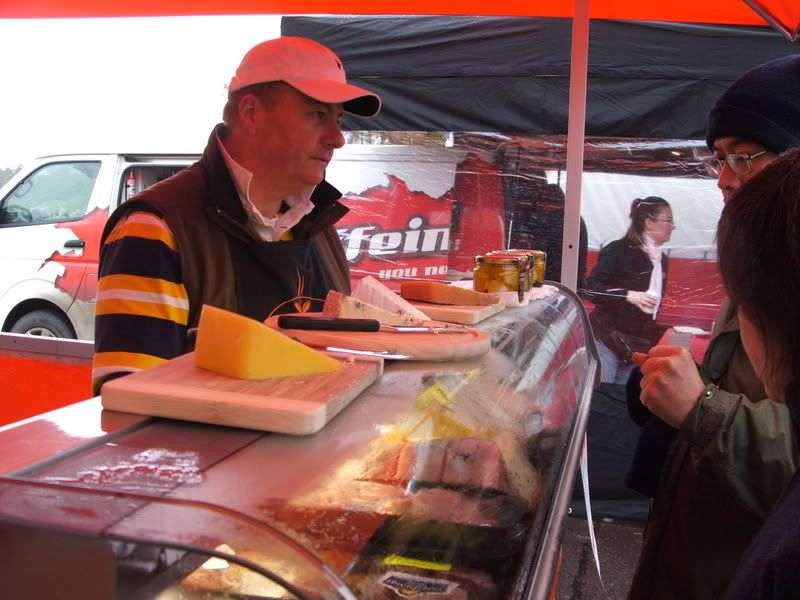 They provide a range of meats and cheeses from King Island, Lilydale free-range chickens, Otway free-range pork and Timboon farm bred rabbits. The couple behind the jump were just lovely and none of my pesky SOLE questions stumped them... we got talking so much, I forgot to get any of the pork, and nearly walked away without paying for my one purchase!!
What I DID buy was a Timboon farm bread, hormone-free rabbit. They come frozen, as TGP get a once a week delivery. At $14 a bunny, I want the very best, and was provided with a recipe sheet. Look out for Sauteed Rabbit with Sour Cream and Bacon next week! Poor Joon, who keeps bunnies as pets couldn't even stand to be next to me, as I made my purchase! She did however, get a slab on King Island beef for roasting, and at $20, was outstanding value.
Next stop was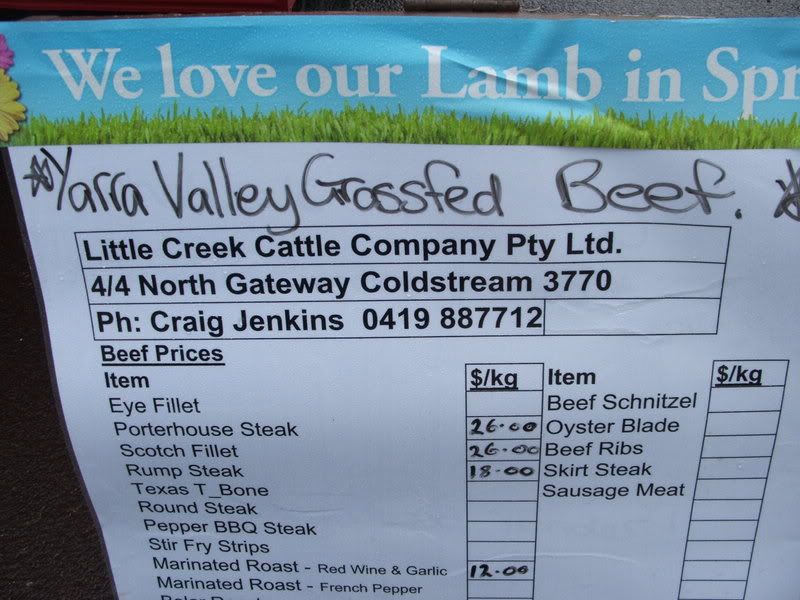 Little Creek Cattle Company. I had heard much about these guys, and was chuffed to find them at the Market. They are from Coldstream, in the Yarra Valley, which is about 45 mins from Glen Waverley. I purchased a topside roast for $14! Thet are members of the Yarra Valley Regional Food Group and guarantee no hormones and no organophosphates. All meat is dry aged and they deliver to your door. You will find them at
http://www.littlecreekbeef.com
and on 0419 887 712. I did the topside roast for dinner last night, just a plain old-fashioned roast with jacket potatoes, kumara and vine tommies and it was divine! The texture of the meat was silky and tender, and the flavour was outstanding!
I was also thrilled to find The Convent Bakery from Abbotsford was there, and I bought a ciabatta. I had heard so much about the quality of their wood fired oven bread, and I wasn't disappointed! The ciabatta was dense and chewy, and will be perfect with my egg and bacon breakfast that Furry is currently conjuring up!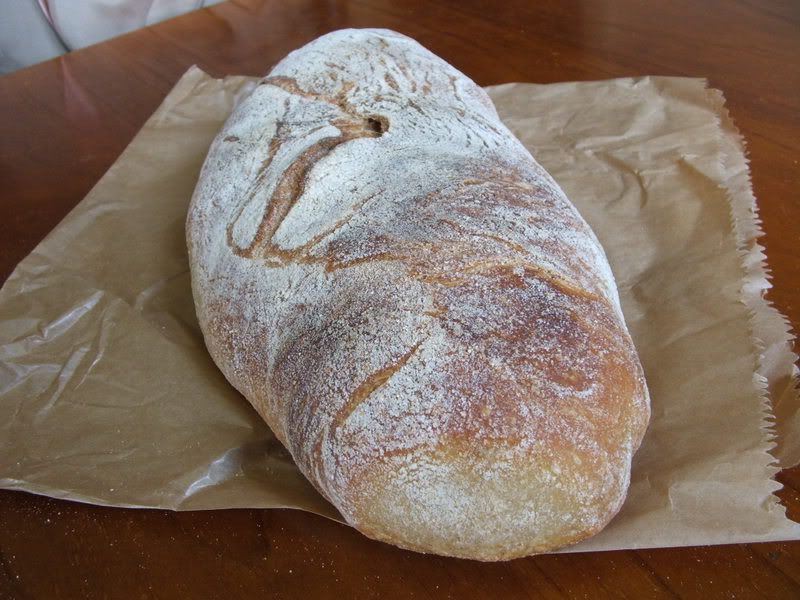 The last purchase was from Blue Bay Cheese, a very sharp Cheddar.. it was divine, but pricey at $9.00 for 250g
So here are my goodies!!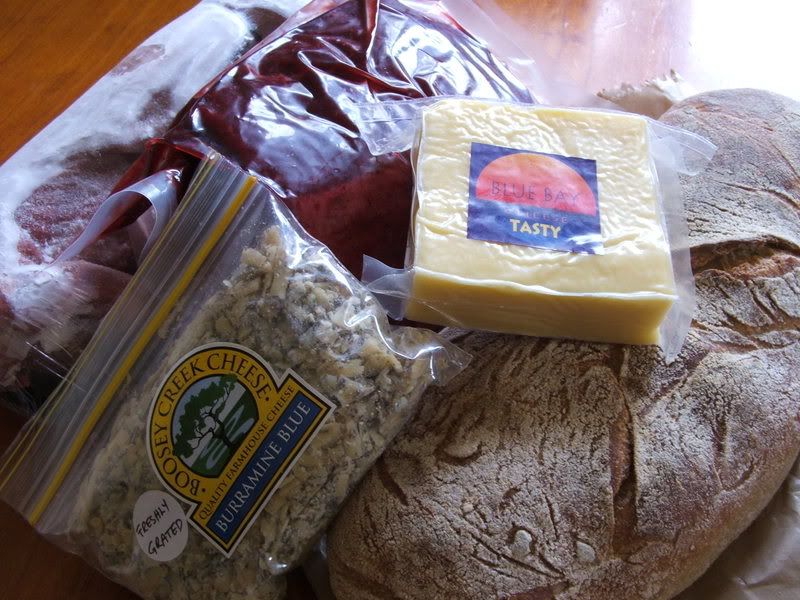 Next market is September 20. Mark it in your diaries and GO THERE!!!